Mailing campaigns
Tool to send mass mail to your newsletter subscribers. Just with a few clicks you may start with promotion or simply inform your customers. This tool able to filter among all customers by filtering by specific condtions.
Create new campain
First step is just add some name and content. What is important here, a language setting at the bottom of the campain.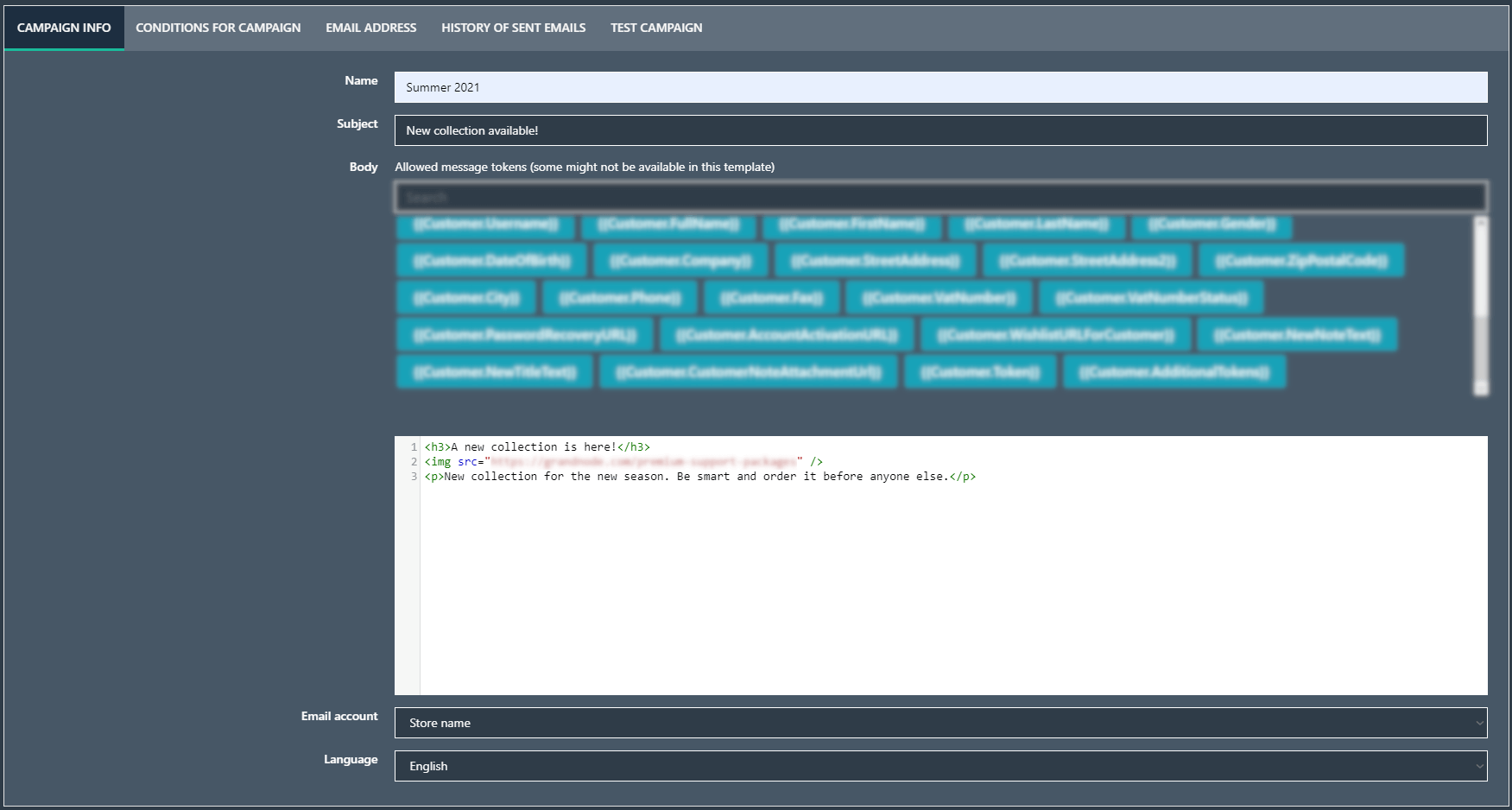 Next step, define to whom this campain should be directed. In my test store, all my customers who are not vendors, staff, administrators, etc are tagged with mailercampain tag. Will use this to directed mail campain only to that customers group. Also I do not want to send mail to any of my customers who recently made purchase, the most probably they saw my new collecton. Setting up a date will help me with this.

There is one condition very helpful with preparing mail campains - newsletter categories. What it is and how may it be usefull, may read here.

When save condition, may have a look on list of email address tab, to see a list of my customers qualified. It is recommend to have a look at this tab, before run a campain, as this give you information how many of your customers met the condtion and you may correct condition before campain will start.

One mail for whole campain? Not much, even for the test store. So will review my condition and remove last purchase date.

A bit better, isn`t it? Before go to the next step, will open the last tab, and run test campain by setting my email address. This way will get campain mail and will be able to fix the styles, text, image or anything else if made somethig wrong during the creation step.
Finally, when all is done, it is time to press the button - send mass email located at the top of campain.

Page reload, and tab with the history of sent email will show the list

From message queue (Administrator dashboard >> System >> Message queue) list you may find campain emails as well.

How more effectively prepare campains may ready at the customer segmentation section. [MORE]