Allegro
Please note that Allegro integration is designed for Polish users and it's written in Polish language.
1. Zakładanie konta i Autoryzacja
Zakładam, że większość osób bedzie chciała korzystać już z produkcyjnej wersji Allegro. Produkcyjnej, znaczy oficjalnej, na której sprzedajemy realne produkty. By założyć aplikację dla naszego sklepu, musimy przejść na tę stronę internetową: https://apps.developer.allegro.pl/ (lub https://apps.developer.allegro.pl.allegrosandbox.pl/ jeśli jednak wolimy wcześniej testowo zintegrować sklep).

Klikamy Zarejestruj nową aplikację
Wpisujemy nazwę i wybieramy rodzaj aplikacji

W kolejnej części, będziemy poproszeni o wprowadzenie adresu przekierowania. Jest on bardzo istotny i jego poprawne wpisane jest niezbędne, by cała integracja działała. Gdy popełnimy tutaj błąd, nie będziemy w stanie zautoryzować się z poziomu sklepu.
Adres przekierowania wpisujemy w formie http://TWOJADRESSKLEPU/Admin/AllegroConfiguration/Login
Gdy mamy zarejestrowaną aplikację, przechodzimy do GrandNode i instalujemy zakupioną wtyczkę. Proces instalacji jest dość intuicyjny, po wejściu w Panel Administracyjny -> Konfiguracja -> Lokalne wtyczki, w prawym górnym rogu "Wgraj dodatek/wtyczkę" i wskazujemy archiwum z naszą wtyczką. Po pomyślnej instalacji, przechodzimy do jej konfiguracji. W menu po lewej stronie, wybieramy Extensions -> Allegro -> Ustawienia

W odpowiednie miejsca wklejamy nasze klucze, które otrzymaliśmy w poprzednim kroku. Po zapisaniu zmian, klikamy przycisk Zaloguj do Allegro. Jeśli przycisk jest niewidoczny, kliknij przycisk "Save", po zapisaniu kluczy, pojawi się przycisk do logowania. Po przekierowaniu, logujemy się do Allegro i wracamy do sklepu.
2. Ustawienia wtyczki
W pierwszej kolejności należy ustawić adres. Ustawienia adresu potrzebne są do eksportu produktu do Allegro. Bez ustawionego poprawnego adresu, eksport produktów będzie niemożliwy.
Ważne! Nie używaj polskich znaków w nazwie województwa, Allegro nie przyjmuje takich wartości.

Ustawienia aktualizacji stanów magazynowych (zaplanowane zadanie):
-Zakończenie aukcji/produktu na Allegro, jeśli stan magazynowy spadnie do zera
-Automatyczne wznowienie aukcji/produktu na Allegro, gdy stan magazynowy produktu będzie dodatni
Dodatkowe ustawienia:
Ustawienia te związane są z synchronizacją akcji powiązanych z produktem po stronie GrandNode, a Allegro.
Na przykład - zmiana ceny na produkcie może powodować zmianę ceny tego produktu na Allegro
3.Mapowanie kategorii
By móc wysyłać produkty do Allegro i w pełni korzystać z integracji, niezbędne jest wykonanie mapowania kategorii. Najlepiej od razu powiązać wszystkie kategorie, które mamy w sklepie z tymi, które dostarcza Allegro.

Z drzewka kategorii, wybieramy tę kateogrię z Allegro, z którą chcemy powiązać naszą kategorię w sklepie. Ważne! Często znacznie lepiej jest wybrać kategorię wyższego rzędu (np. mamy kategorię Smartfony, to zmapujemy ją do kategorii Smartony i Telefony Komórkowe na Allegro, zamiast do kierunkowych, szczegółowych kategorii). Dzięki temu, podczas importu produkty przypisane do tej kategorii, np. Samsung S8, iPhone 6, trafią do tej samej kategorii.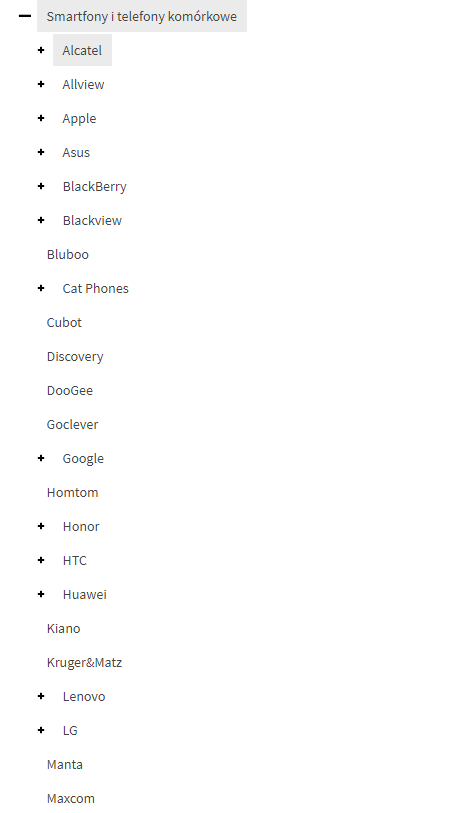 4. Import produktów z Allegro do GrandNode

Na tej zakładce definiujemy według jakich ustawień mają nam zaimportować się nasze produkty z Allegro. Jest to na tyle intuicyjne, że każdy pozna po nazwie ustawienia, do czego ono służy.
Ważne! Jeśli nie będzie wybrane ustawienie "Twórz atrybuty (warianty) podczas importu" każdy produkt, który jest wariantem na Allegro, zostanie zaimportowany jako osobny produkt do GrandNode.
5. Produkty na Allegro
Jeśli pomyślnie importowaliśmy produkty, to w zakładce Produkty na Allegro możemy je zobaczyć wraz z linkiem do danej oferty na Allrgro lub do edycji produktu w panelu administracyjnym. Możliwa jest też zmiana statusu produktu - Aktywuj (Wznów) / Zakończ.
Ważne! Zmiana statusu (aktywacja/zakończenie) jest operacją asynchroniczną. Oznacza to, że może zająć pewien czas (Według Allegro jest to do 1 godziny, w zależności od tego ile produktów mamy w sklepie). Warto więc mieć na uwadze, że nie będziemy mieli 100% pewności, że nasz produkt został aktywowany.

Szczegóły wyżej opisanych operacji (zakończenia i wznowienia) możemy sprawdzić w Dzienniku zdarzeń, dostępnym w menu bocznym.

6. Import zamówień
Zamówienia są importowane w określonym interwale czasowym, dzięki wbudowanej funkcjonalności GrandNode - Zaplanowanych zadań.

Ważne! Do GrandNode importowane sa zamówienia, które mają status New. W zakładce Allegro -> Zamówienia, możemy zobaczyć wszystkie zamówienia, które zostały zaimportowane z Allegro wraz z bezpośrednim odnośnikiem do nich. Zmiany statusu zamówień w GrandNode są połączone z Allegro. Jeśli anulujemy zamówienie w panelu administracyjnym, informacja ta zostanie wysłana do Allegro.
7. Aktualizacja stanów magazynowych (zaplanowane zadanie)
Zadanie, które synchronizuje stany magazynowe między Allegro, a GrandNode.
8. Eksport produktów do Allegro (GrandNode -> Allegro)
By wysłać produkt do Allegro, należy przejść do jego edycji w panelu administracyjnym. Wchodzimy w zakładę Allegro Kategoria, jeśli mapowana kategoria, do której przypisany jest ten produkt, nie była "liściem" (czyli najbardziej szczegółową kategorią w drzewku kategorii (najniższą)) to musimy wybrać tę, która jest kategorią najniższego rzędu. Gdy to zrobiliśmy przechodzimy do zakładki Import produktu do Allegro. Jeśli w poprzednim kroku wybraliśmy kategorię, wyświetlą nam się wszystkie możliwe pola do uzupełnienia. Należy uzupełnić te, które są wymagane, w innym wypadku, nie będziemy w stanie wysłać produktu, o czym poinformuje nas stosowny komunikat.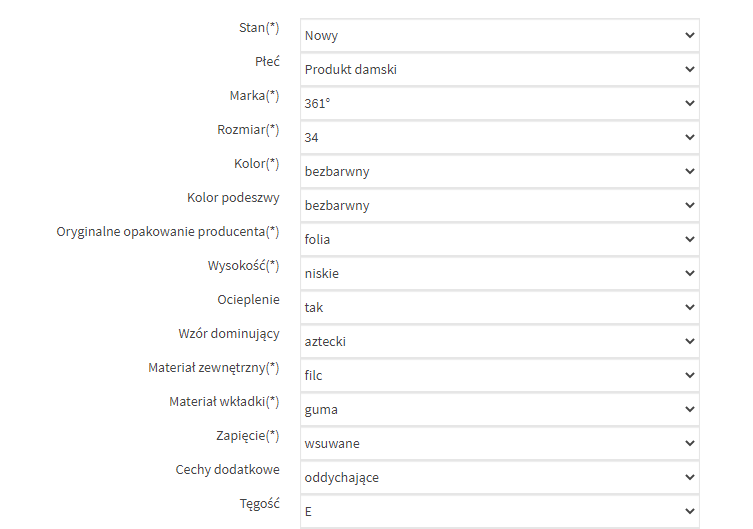 Aktywować/Zakończyć produkt możemy bezpośrednio w zakładce, w której obecnie jesteśmy lub na wcześniej opisanej zakładce Allegro -> Produkty na Allegro.